E F R Y ' S ARTIST S P O T L I G H T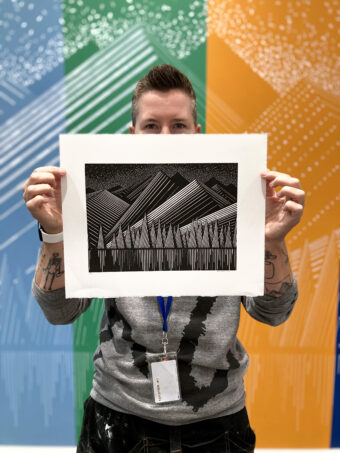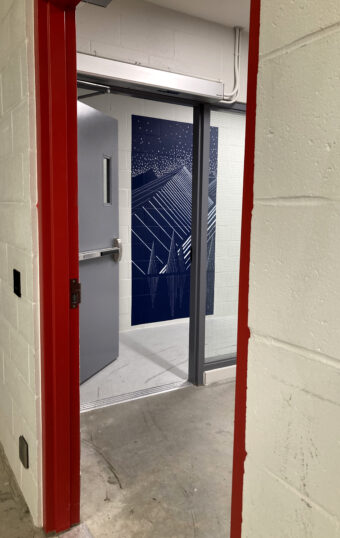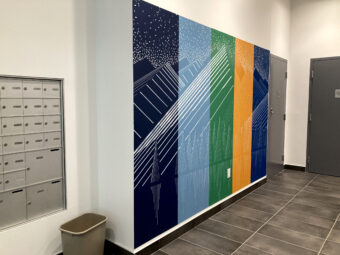 Introducing "Rising", a six-part mural series by local artist Kari Kristensen. Residents and visitors to EFry's new building for women and children in Surrey are welcomed by the first mural in the series, a multi-coloured landscape that reflects our region. Each coloured section represents the single-colour variations that appear on each of the building's five floors. Like the shelters, housing and programming in the building, each part of the series works independently but is also beautifully interconnected together.  We sat down with Kari for an interview.
EFry: Where do you get your inspiration? 
Kari: I am endlessly inspired by the landscape.  It's more divine in its perfection than anything we can create. My work is a dash of real and a dash of imagination.
EFry: What are you working on at the moment?
Kari: Although I love my experiences painting murals in different buildings and neighborhoods, I relish my time in the studio.  That is where I come up with the ideas and create the prints that will become future projects and murals.  I love carving the linoleum and printing it on my rather beautiful etching press to create my original prints.   So I'm there for a little while now before heading off to paint my next mural in January.
EFry: What is the artist statement for "Rising"?  
Kari: Rising is full of mountains.  They are the foreground, more obvious, ones as well as the shadow ranges in the background. To me, mountains exude strength and timelessness and it's that power I hope people take away from this piece.
EFry: How did you come to choose this print for this project?
Kari: We knew the project was going to be spread over 6 floors, so the design evolved out of wanting each piece to be able stand alone, as well as be a portion of a greater whole. Generally, my murals are an extension of my print work, meaning I pick a preexisting print to enlarge onto the wall. But this one was designed specifically with Elizabeth Fry in mind.
EFry: How long did this project take? 
Kari: The 6 murals took a total of 7 days.  Just me and my assistant (and amazing artist in her own right, Tara).
EFry: Did the building (Rosewood) and its function as a facility for women and children, play a part in the choices you made?
Kari: One choice we did make when we arrived on site and saw the walls for the first time was to enlarge the mural on the 2nd floor, the shelter level.  So many women and children will be through there, maybe not at the best time in their lives, and putting something more substantial on that level, for them, felt right.
EFry: Did you have any notable encounters with anyone while you were painting at Rosewood?
Kari: Every job site brings its own bit of magic, whether it's the view or the people.  This time, it was the people for sure. I ran into one woman who said she followed someone on instagram with similar work, only for us both to realize it was actually me she follows!  And I can't say enough about the donor of the mural, who was great to work with and so incredibly pleased when he got the grand tour at the end of it all. It was over a year for all the planning and scheming and designing before any paint hit the walls.
This mural series was a gift to EFry from the building's architect, Gordon Mackenzie.