E F R Y ' S  V O L U N T E E R  S P O T L I G H T
Volunteer programs in prisons permitted to resume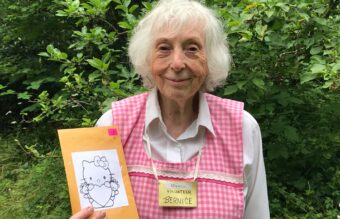 Supporting women in prison to maintain family connections and prepare for successful community reintegration has been at the heart of what EFry does since we were founded in 1939. COVID restrictions prevented our in-prison programs, the majority of which are delivered by volunteers, from operating for the past two years. We have just received news they can resume. EFry's Storybook Program, which connects incarcerated parents with their children through recorded readings, our recreational programs, and our art programs will all restart soon.
That's welcome news for both incarcerated women and our many dedicated volunteers, like Bernice, who shared her artistic side with women in the Alouette Correctional Centre for Women (ACCW) through the card-making program for seven years.
"As a senior, I've done a lot of volunteering but I've never felt so appreciated as I have by the girls at ACCW," says Bernice. "Many of them even called me Kookum, which means grandmother, and one even made me a beautiful scarf as a thank you."
Through the card-making program, women are able to create handmade pieces to send to friends and family.
"We do all kinds of occasions, but I notice their favourite ones are those that express love," says Bernice. "I really believe the program plays a very important role in maintaining vital connections to loved ones. I can't wait to get back to it."